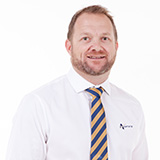 Jason.Garner@astutefinancial.com.au
Over the past 24 years I have dedicated my career to developing a well-rounded understanding of the banking and finance industry.
I have been a Teller, Home Finance & Small Business Lending, Senior Relationship Manager Commercial Banking, Bank Manager as well senior leadership roles in Commercial Banking, Retail Banking as well Financial Planning throughout regional Queensland and New South Wales. My career objective was to gain experience in as many roles as possible until I turned 40 at which time I would reflect and then settle on the role that gave me the most fulfilment and more importantly the most enjoyment.
On reaching that milestone, it didn't take me long to realise that I am passionate about two things:
1)      Customer Service – I realised I thoroughly enjoy working with people and adding real long term value to their lives. Through both the good and the bad times I love assisting people achieve their life goals.
2)      My Family – Over the years I have moved my wife Mandy and our three kids – Jack, Wil and Charli through various towns and schools. Between moves we have spent nine years in the Gold Coast and we fell in love with the people, lifestyle and opportunities of this great area. We wanted to make this our home.
Combining my passions it made perfect sense for me to join the Astute team and run my own business as an Astute Licensee. In doing this, I can be truly independent for my customers in providing solutions individually tailored to their needs.
Why not contact me today and see how I can help you achieve your goals.
Specialty: Residential Finance, Commercial Finance, Car & Equipment Finance, Insurances
view more
view less
george.brooks@astutefinancial.com.au
Over the past 20+ years I have worked in financial services in Brisbane, Sydney and Melbourne and have a detailed understanding of how to help customers achieve their home ownership dream.
I have run teams of sales professionals and been a senior relationship manager and home finance manager across my career. My passion is helping customers and small business owners to protect and grow their wealth, through property ownership and investment.
My experience has been gained in Home Finance, Business Banking, Marketing and Financial Planning, where the consistent path to success was listening and helping customers to achieve their goals. I am looking forward to being able to provide choice to my customers now, as part of the Astute Financial family.
As a Queenslander, I returned to the Gold Coast in 2014 so my boys could complete with high school and decided this was my long term home, so started my own business in 2018. I have access to all major & second tier Australian Banks and work independently in the best interests of my clients.
Areas of Speciality: First Home Buyers, Residential Finance, Apartment Investment
Qualifications: Diploma in Finance & Mortgage Broking Management, Bachelor of Economics & Commerce, Graduate Diploma in Applied Finance
view more
view less
mandy.garner@astutefinancial.com.au
Having spent many years relocating to different areas of Australia with my husband Jason, I have been lucky enough to experience a diverse lifestyle. From city to country, and beach to bush, we have enjoyed every moment and been blessed with three amazing children along the way.
During this time, I also enjoyed many different roles within several banking institutions, corporate companies and small businesses. Although each was diverse, the common goal was to provide exceptional customer service. This is my passion.
I love meeting our clients, building lifelong relationships, understanding their needs and finding out about their life goals. I have gained a real love of dealing face to face with people from all walks of life and now, as a team, ensuring that we at Astute Paradise Point can make their goals a reality.
view more
view less